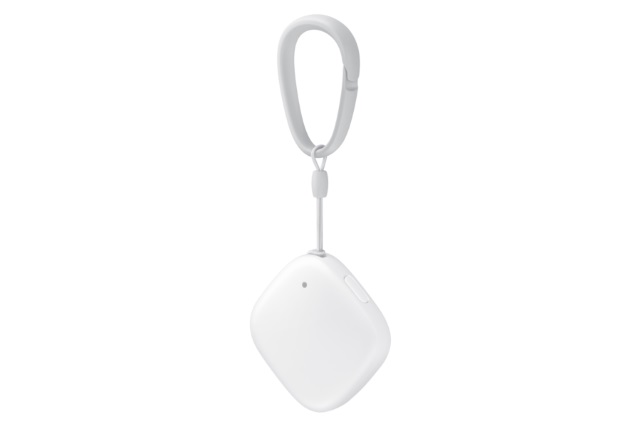 The Samsung Connect Tag is the first with NB-IOT connectivity, a specially designed cellular standard that uses little energy and can securely connect to the internet.
The low-power NB-IoT, Cat.M1 tag uses cellular connectivity to provide location services and notifications to users.
The tag will work with GPS, Wi-Fi positioning system (WPS) and Cell ID, enabling it to receive precise location information, both indoors and outdoors.
More news: Nifty scales record level, Sensex at 2-month high
Samsung has announced the launch of its Connect Tag, a multi-purpose tracking device that'll enable users to keep tabs on kids, pets and belongings.
Other features of the Connect Tag include an on-demand function that allows the user to request a tag's location at any time with the press of a button on their smartphones, as well as a "Send my location" function which lets the user possessing the device send their current location to a friend or family member at any time. It can be attached to easily misplaced objects such as keys but it's likely that most buyers will use it with dog collars to keep track of beloved pets, or in children's backpacks for monitoring their positions via a smartphone (looks like it's now only on Android). Samsung suggests that this can be useful for tracking down a vehicle if you forget where you parked. If you've given your tag to a child, they can use the tag to send you their location details, or you can set up location alerts to be sent to you periodically to track where they are.
The Connect Tag will be also tied to the SmartThings ecosystem.
More news: Rose McGowan Accuses Harvey Weinstein of Rape In New Tweets
The company writes: "The geo-fence feature on the Samsung Connect Tag will notify the user's chosen smart devices when he or she approaches - so if the user wants lights and TV to turn on while getting home from a nightly run, the Samsung Connect Tag can trigger these products as the user enters the pre-defined zone". It also feature an IP68 water and dustproof rating, which means it can survive the occasional splash.
Now this one was a must device, and smartphone giant Samsung made it possible. It will initially be available for purchase in Korea, before expanding to select countries in the future.
More news: Serena set for Australia Open